Murder accused police inspector's manslaughter plea 'cowardly'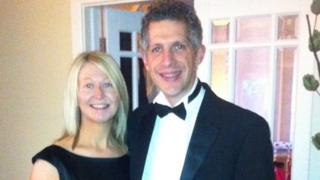 A "despicable and wicked" police inspector committed a "cowardly volte-face" when he admitted his wife's manslaughter having previously denied killing her, a jury has been told.
Darren McKie, 43, admitted killing his detective wife, Leanne, on the ninth day of his trial at Chester Crown Court but denies her murder.
She was found dead in Poynton Lake, Cheshire on 29 September.
The court was told Mr McKie had conducted "a game of cat and mouse".
'Flurry of loan applications'
During his closing speech, prosecutor Nigel Power QC said: "In six hours and 49 minutes of interviews with police, he skilfully and determinedly lied when he could and made no comment when he couldn't."
He criticised the Greater Manchester Police (GMP) officer's "despicable and wicked behaviour" when he had treated the police investigation as "a game of tactics".
Mr Power said: "What produced the argument that led to her death was that he'd been found out in committing serious criminal offences."
The court heard how Mr McKie - who had 20 years of police service - forged the GMP detective constable's signature repeatedly and used her warrant number and police computer account password to obtain her payslips and P60 for a loan application.
That is an offence of misconduct in public office, the jury was told.
Mr McKie, of Wilmslow, Cheshire, made "a flurry of loan applications" in the days before he killed his wife - signing up for seven in her name in one day alone, jurors were told.
The prosecutor said: "To the outside world, the marriage was a happy one. They were described as being the perfect family."
He said they had never defaulted on a mortgage payment or missed a loan payment, but this was "new territory".
'Determinedly strangled'
Their total debt before the mortgage was £115,000, the court heard.
The barrister told the jury that Mr McKie "determinedly strangled his wife to death".
Mr Power said it must have involved significant force for at least a minute and that proved a determined effort to cause serious harm. To demonstrate how long it lasted, he then timed a minute's silence in court.
He also ripped up a set of questions he had intended to ask Mr McKie before he changed his plea and refused to give evidence.
But the prosecutor concluded by reading 25 questions that he would have asked the defendant.
They included: "Did you think about your three children as you were killing their mother?"
Throughout the proceedings Mr McKie sat staring straight ahead and showed no emotion.
The trial continues.