Stalybridge Ray Mill fire site 'potential crime scene'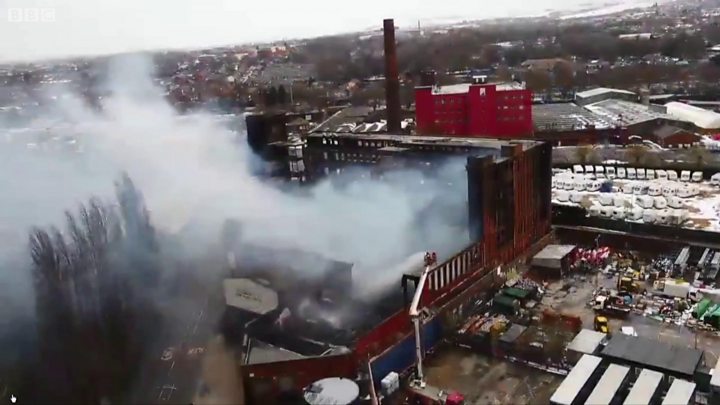 The site of a mill destroyed by a large blaze is being treated as a potential crime scene.
Ray Mill in Stalybridge, Greater Manchester is to be demolished after the fire on Saturday evening left it "structurally unsound".
Tameside Council said it could be six weeks before the fire was fully out.
A cordon is in place around the mill and the public has been warned by the fire service to respect it as the building remains "extremely dangerous".
Greater Manchester Fire and Rescue Service (GMFRS) said it was keeping an "open mind" on the cause, saying it was treating it as a potential crime scene until it can rule out it was a deliberate fire.
The council said most of the fire was now out but the root of it was "deeply embedded in layers of rubble" so will only be fully extinguished when demolition work takes place.
Police said the cordon had been put in place for the "safety of the public" and urged people to keep outside it.
Greater Manchester Fire and Rescue Service advised all nearby residents and businesses to continue to keep doors and windows closed "as a precaution".
The council said all operations from its nearby depot on Tameside Street were continuing as normal.
It added Stagecoach now also has full access to its bus depot and services are running as normal.
At the height of the blaze, five storeys of the building in Clarence Street were alight.
Ray Mill housed about 15 small businesses, including cheerleading and dance academy TGA Tycoons.