South Heywood Link Road: Green belt housing plans backed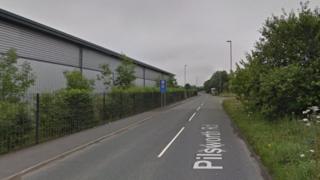 Proposals to build a major road and up to 1,000 houses on green belt land near a Greater Manchester town have been backed by planners.
The South Heywood Link Road would be built between junction 19 of the M62 and Pilsworth Road in Heywood, the site of an industrial estate.
Up to 97% of the site is located within the Greater Manchester green belt.
The plans will be discussed by Rochdale Council's planning and licensing committee later.
A total of 260 letters of objection have been received about the proposals.
Government referral
The proposals from housebuilder Russell Homes also include employment space and a primary school, for the 129.4 hectare site.
The Greater Manchester Combined Authority has already allocated £10m for the road and Highways England is set to provide £1.75m.
The remaining £17m cost will be funded by the developer.
Planning officers recommended the council's planning committee should be minded to approve the development, subject to approval from the housing, communities and local government secretary.
The application will be referred to the government because the proposals include inappropriate development on land allocated as green belt land in the local plan.