Police inspector Darren McKie jailed for wife's murder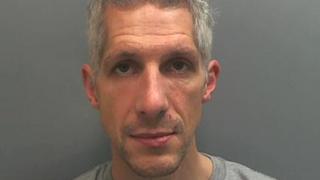 A former police inspector who murdered his wife in their home and dumped her body in a lake has been jailed.
Leanne McKie, 39, a detective constable, was found strangled in Poynton Lake in Cheshire on 29 September.
Darren McKie, 43, denied murder but admitted her manslaughter towards the end of his trial. He was found guilty by jury at Chester Crown Court.
McKie was told he must serve at a minimum of 19 years in jail.
Sentencing McKie to life imprisonment, Mr Justice Robin Spencer told him he "abused his knowledge of criminal investigations... and the public's trust in a senior police officer" after the "cruel killing".
During his trial prosecutor Nigel Power QC said McKie "determinedly strangled his wife to death", involving significant force for at least a minute.
Mr Justice Spencer said McKie had disposed of his wife's body in a "callous and despicable way" and had "shown no remorse".
He added: "You have robbed your children of their mother and have robbed Leanne's parents of their beloved only child."
Outwardly the couple, who had three children, appeared to have a "perfect marriage" and "perfect family", said the judge.
He said McKie had risen to the rank of inspector at Greater Manchester Police (GMP) while his wife was a valued and respected detective constable with the force, and they both had support of loving and generous parents.
'Day of reckoning'
However, in reality they were in the "spectre of serious and constant debt" and "both living beyond their means".
He said: "There was bound to be a day of reckoning."
He said McKie resorted to "subterfuge and fraud" to hide the debts, said to be more than £115,000, from his wife.
The judge said in the past their parents had given them £90,000 towards home improvements and paid off credit card debts of £40,000.
The court heard McKie left work at Stretford police station abruptly at about 11:30 BST on the day of his wife's death, after receiving a text message from her revealing she had discovered he had made a loan application for £54,000 without her consent.
The court heard he forged his wife's signature and misused the police computer to obtain copies of her payslips for the application.
The judge said: "Within the hour you had killed her.
"She must have been aware that she was being strangled to death, in the family home, by the father of her children.
"It was an awful way to die."
The court heard McKie put his wife's body in the boot of her red Mini and drove it a short distance away, returning to the car later that night after continuing the day as normal and putting their three children to bed and taking her body to Poynton Lake.
Police officers who spotted McKie walking at 01:30 said he told them he was fine and nearly home, noticed him an hour later walking barefoot.
The officers said they were concerned and drove him home then realised his children had been left alone. When questioned about it, the police officers said he had been looking for his wife who had not returned from work.
The officers were confident he did not pose a risk to his children so left to carry out further enquiries into why Mrs McKie had not returned home.
Mrs McKie's mother Ellen Dodd said from the moment she was told her daughter had been found dead, "our lives came to a stop".
"Leanne was our light, and the light has gone out," she said.
"It is only because of the children that we keep going. She was kind, loving and generous... [and] never said a bad word about anyone."
Det Insp Adam Waller from the force said: "Darren McKie clearly thought he could get away with murdering his own wife - and used the knowledge gained as a police officer to try and systematically cover his tracks and dispose of evidence, with the aim of creating the impression that his wife had been murdered by someone else."