Wall-wedged cat rescued by Manchester fire crews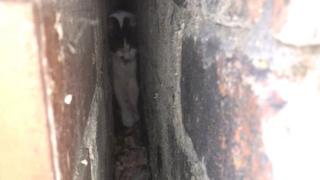 A cat had to be rescued by firefighters after getting stuck between two walls.
Georgie, the five-year-old moggy, was trapped for more than an hour when his loud "miaows" alerted a passerby in Stretford, Greater Manchester.
The RPSCA called Greater Manchester Fire and Rescue Service who knocked down a section of wall to rescue Georgie.
The cat spent a few days at an animal hospital but has since returned home much to the relief of his owner.
Georgie, who was bleeding from the mouth after breaking a tooth, was trapped between a garden wall and a garage.
RSPCA inspector Emma Dingley said: "He was well and truly wedged in the gap.
"I have no idea how he would have got himself into that mess.
"He had been there for at least a few hours before we were called so he wasn't very happy."
Georgie was found just after 12:40 GMT on Tuesday 20 March and was allowed home the following Friday.