Deborah Lowe: Teacher cleared of pupil sex charges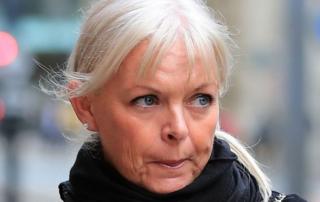 A 53-year-old teacher has been cleared of having sex with a teenage pupil.
Deborah Lowe was acquitted at Manchester Crown Court of five counts of sexual activity with a child by a person in a position of trust.
Ms Lowe had told the jury at Minshull Street the sex only began when the boy was 17 and had left her school.
The teacher from Cheshire wiped away tears as she was told she could leave the dock and was free to go by the judge, following a seven-day trial.
She had earlier said she was "mortified" by the affair.
Ms Lowe, of Elmsbed Caravan Park in Poynton, was cleared by a jury of six men and six women, which was out for two hours and seven minutes.
'Midlife crisis'
The prosecution had alleged Ms Lowe broke the law by having sex with the boy when being a person in a position of trust even though he was 16-years-old.
A single allegation of having sex with a child, when the complainant was aged 15, was withdrawn during the trial.
The judge instructed the jury to return a not guilty verdict on that charge, after the boy gave evidence which suggested he was 16, not 15, when he first had sexual contact with Ms Lowe.
The former air hostess who has a daughter, aged 28 and a son, 20, told the court she had sex with the boy, after being "flattered" by his attention and was having a "midlife crisis" when they began a relationship.
Ms Lowe, who has worked in education for 14 years, told the jury they first had sex three months after the boy left school.
She said later she felt, "mortified and embarrassed" over her "foolish infatuation".