Images of £50m M6 motorway bridge revealed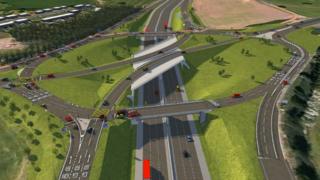 Images have been revealed of a planned £50m bridge designed to reduce congestion around a key roundabout on the M6 in Cheshire.
The two-section flyover would cut across the roundabout at junction 19 near Knutsford, where the motorway meets the new A556 bypass.
It would also increase capacity on the roundabout's slip roads.
The plans are subject to final approval from the Transport Secretary, but work could start in March 2020.
The government announced plans for the scheme in December 2014 and Highways England unveiled its preferred route in June.
Two public events will be held in May to display the plans before a formal public consultation later this year.
The work would also feature new traffic lights on the roundabout and its approach roads, and improved access for walkers and cyclists.
If approved, the project is expected to be completed by September 2021.