Salford house fire accused 'did not mean to hurt anyone'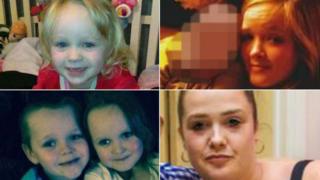 A man accused of murdering four children after fire bombing their home did not intend to hurt anyone, a court heard.
David Worrall, 25, told police he was a "drunken fool" and just going along with his co-accused Zak Bolland.
The four siblings, aged between three and 15, were killed in the blaze in Walkden, Salford, on 11 December.
Mr Worrall and two others are on trial at Manchester Crown Court accused of murder.
Demi Pearson, 15, her brother, Brandon, aged eight, and sisters, Lacie, seven, and Lia, three, all died in the fire.
Their mother Michelle Pearson, 35, survived but was left badly injured.
Bolland and Mr Worral are alleged to have attacked the house with petrol bombs at about 05:00 GMT.
'Following along'
Mr Worrall told police he took an axe and Bolland a machete with an 18-inch blade as they went round to the Pearsons' home.
The father-of-one told police he ran off when Bolland, the alleged ringleader, smashed the kitchen window and thought they were just going to set fire to wheelie bins outside.
He said Bolland also had two petrol bombs made up in a Budweiser beer bottle and a wine bottle
But he maintained he did not touch or throw a petrol bomb into the house.
Worrall told police: "Obviously Zak's doing the thinking, I'm just following along like an idiot. Because I was a drunken fool.
"I did not go there wanting to hurt anyone.
"I didn't think he would do that to someone's house. I didn't think he would take it out on the family."
The jury heard Mr Worrall was "shaking profusely" after he was arrested at his mother's house for murder the day after the attack.
He told officers he was scared of being labelled a "grass" and the attack was "bad."
A police officer interviewing him replied: "What's being a "grass" when four kids are dead?"
Bolland, 23, and Bolland's girlfriend, Courtney Brierley, 20, are also on trial for the murders, the result of a "petty" feud with Mrs Pearson's son, Kyle, 16, about £500 damage to a car, the court has heard.
Kyle and his friend Bobby Harris managed to escape.
Mr Worrall, Bolland and Ms Brierley all deny four counts of murder and three counts of attempted murder.
Bolland has admitted reckless arson, a charge denied by the other two.