Three Cheshire Lib Dems resign over cuts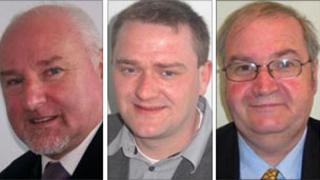 Three Liberal Democrat councillors in Cheshire have resigned from the party in a row over coalition budget cuts.
Bob Bryant, Chris Carlin and Peter Blackmore will continue to serve on Halton Borough Council as independents.
The three believe the coalition's cuts, particularly to staffing and children's services, will see residents suffer.
Mr Bryant said: "I wasn't elected to be some nodding dog for the Tories - we didn't campaign in the last election to see really damaging cuts in spending."
Mr Blackmore told the BBC: "The manifesto that I was putting forward to the voters at the election, is not the one that we're getting.
'Savings made'
"What I stand for is serving the people of the ward that I represent, which is Halton Castle ward.
"I'll still do exactly the same job, it's just that I won't be under a Lib Dem banner."
Mr Carlin, elected to the Mersey ward, added: "We've already made efficiency savings.
"We are in the top 25 out of 350 as one of the poorest boroughs in the country.
"I don't think you can squeeze much more out of Halton without hurting people."
Halton Council remains in Labour's control.