Two cannabis farms found in Southport in one week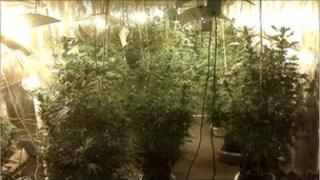 Two cannabis farms with a total street value of about £160,000 have been discovered in Southport in a week.
The first - which police said was one of the largest ever found in the town - was discovered in three industrial units in Brook Street on Monday.
Merseyside Police said the hundreds of plants had a street value of more than £150,000.
More plants were found in a flat in West Street on Friday, after police received information from residents.
A man, 38, was arrested in connection with the first discovery and has since been released on bail.
On Friday, police arrested two men, aged 23 and 39, at the West Street flat on suspicion of possession of cannabis with intent to supply.
Insp Gary Fairbrother, of Merseyside Police, said: "Drugs cause misery to the lives of law-abiding residents as well as to those mixed-up in the trade and we will continue to act on any information we receive, in confidence if people prefer, so we can take drugs and those who peddle drugs off the streets."