Merseyside house damaged in explosion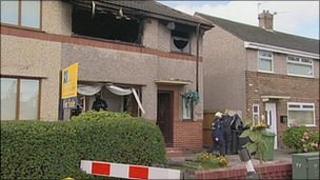 A house has been seriously damaged in an explosion on Merseyside.
Police said a man was seen running away from the house in Park Lane West, Netherton, at 2045 BST on Thursday, possibly with his clothes on fire.
A 35-year-old man from the Bootle area has been arrested on suspicion of arson and abstracting electricity and will be questioned later.
Detectives are urging anyone who may have seen the man run off to contact them.
Det Insp David Keegan said: "We are also asking for anyone who may know anything about the fire or encountered someone with burn injuries who hasn't sought medical help to let us know."
Road closures were put in place while the unoccupied semi-detached house, which was structurally unsafe, was made secure but the affected roads have since reopened.