Cat discovered with rotting leg in Warrington garden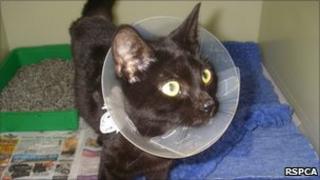 A cat had to have its leg amputated after being found in a Warrington garden with the limb rotting away under a bandage.
The RSPCA believe the animal was wounded in a car accident and had the injury dressed, but it had not been removed for weeks.
The pet was found in a garden in Orford on 20 September.
RSPCA inspector Vicky Hancox said the cat was "in a terrible state" and described the wound as "horrendous".
"It appears as though someone has either tried to treat this injury themselves or perhaps they've had her to a vet but haven't been back for the follow up treatment," she said.
"Either way, this cat's leg has been allowed to rot away causing what must have been dreadful pain and suffering."
The cat is described as a female, aged about 12 months, with green eyes.
She did not have a collar and was not microchipped so the RSPCA have not been able to trace her owner.
Ms Hancox urged anyone with information to contact the RSPCA.