Crosby head teacher accused over fall 'assessed risks'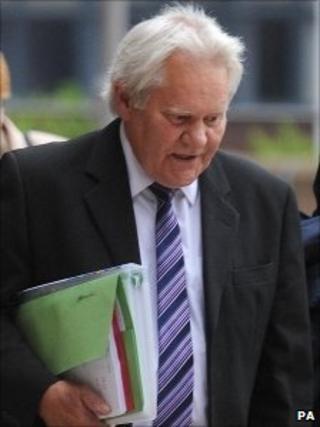 A head teacher who took pupils on to the roof of their school from where one fell through a skylight had weighed up the risks, Liverpool Crown Court heard.
John Summerfield took the sixth formers on to the flat roof of Sacred Heart Catholic College in Crosby, Merseyside, during an A-level results party.
Joel Murray, then 18, fell through the roof and suffered multiple injuries.
Mr Summerfield, 65, denies failing to take reasonable care for the safety of his students.
Mr Murray was one of a group of 10 to 12 students who went on to the school roof in August 2008.
He fractured his skull, broke his ribs, perforated an eardrum and suffered permanent damage to his eye when he fell 2.5m (8ft) into a corridor.
'Clear warning'
The court heard previously that the head teacher warned the teenagers to stay away from the fragile skylight, but Mr Murray placed his foot on it as he walked past and tumbled through.
Jurors were also told that some of the students might have been "slightly inebriated" after drinking alcohol before going on to the roof.
The roof was usually out of bounds but Mr Summerfield had taken the group up there to show them the results of renovations to the building.
Himmat Rai, a health and safety expert, gave evidence for the defence in court earlier.
Asked by Mr Patrick Cassidy, defending, what an appropriate control measure would be, Mr Rai said: "A clear warning to remind the students not to walk on to the roof light."
He said Mr Summerfield had balanced the possible risk to the teenagers, with the measures he took to safeguard them.
Mr Rai said some responsibility would fall on the teenage students to behave responsibly.
'Employer responsible'
He said: "The controls rely on the fact that the students listen to and obey the instructions, and that they are always supervised.
"Age is a factor. For young children or an elderly person, we advocate more extreme safety measures.
"In this case I understand all the students were 18 or over."
He said schools posed many potential risks, and weighing up those risks with control measures should be made by members of staff in all areas.
Asked who was ultimately responsible for the risk assessment of the skylight on the roof of the school, the expert said: "The employer is responsible.
"So the ultimate responsibility for the school is with the board of governors."
Mr Summerfield denies breaching the Health and Safety at Work Act. The trial continues.