Liverpool Council staff to hear £141m budget cut impact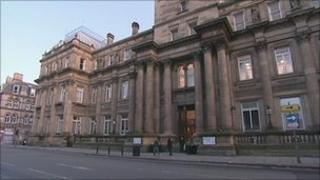 Hundreds of council staff in Liverpool are to hear how they will be affected by cuts to the authority's budget.
Liverpool City Council needs to save £141m between now and 2013 because of cuts in government funding and an existing budget shortfall.
Leader Joe Anderson, who will address staff at the Echo Arena, said every area of spending would be affected.
Union leaders said they had been given assurances the council would work with them to avoid job losses.
Two mass meetings are being held which will see the council outline its priorities in the face of the cuts.
'Challenging times'
These include protecting frontline services for the elderly and vulnerable, increasing affordable housing and attracting jobs and investment to the city.
Mr Anderson said: "These are extremely challenging times and we are facing a reduction in funding, the likes of which has not been seen since the Second World War.
"I am pleased the other party leaders have agreed to work with us on the budget to examine every line of expenditure and work out how we can make savings that protect the most vulnerable in the city.
"We have already taken some action such as reducing the number of senior managers, doing away with bonuses and cutting spending on accommodation and marketing.
"But such is the scale of the budget reduction imposed by Whitehall that there is no area of council spending which will not be affected."
Work is already under way to reorganise the council, including cutting the number of business units from 74 to just 27, cutting 48 senior posts and axing bonuses.
Barbara Hennessy, branch secretary at Liverpool Unison, said: "We are acutely aware and deeply conscious of the fact that our members are very, very concerned about the impact of the financial settlement on their jobs and of course the services they provide.
"But we have been given an assurance by the council and the city council leader that they will work with the trade unions to avoid any job losses."
Councillors from across the political spectrum in Liverpool are coming together to examine the spending proposals.
The ruling Labour administration, the Liberal Democrats and the Green Party have all signed up to be part of the budget setting process.