Bristol student 'killed by Liverpool gang over drugs'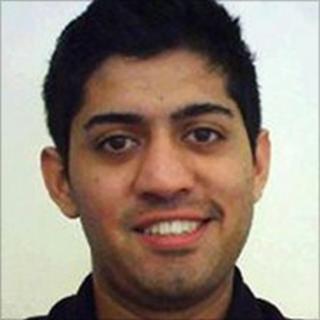 A medical student who began selling drugs was knifed to death by a "cold and ruthless" gang who plotted to steal his stash of mephedrone, a court heard.
The jury heard Muneeb Naseer, 21, from Bristol, was subjected to "extreme violence" in the attack at his student house in Liverpool in July 2010.
Liverpool Crown Court was told he was found by housemates "bound, humiliated, stabbed and left for dead".
Alan Johnson, 30, Colin Clarke, 37, and Mark Hirst, 19, all deny murder.
Ian Unsworth QC, opening the case for the prosecution, said: "Those who knew Muneeb described him as highly intelligent, friendly, outgoing and humorous.
"Sadly, there was another side to Muneeb Naseer's life as a medical student."
Text messages
Mr Unsworth told jurors that before the fatal attack, Mr Naseer's life became "off-balance" and he drifted into dealing and using the drug mephedrone, also known as "M-cat" and "miaow miaow".
"There is clear evidence that Muneeb Naseer began dealing the drug at a time when it was not illegal but continued to do so after it was banned in April last year," the barrister added.
"It was his involvement in the world of drugs that was, ultimately, to [lead] to his sad, premature and young death."
The jury was shown text messages sent between the three defendants and a fourth man, Lewis Cleator, 19, leading up to the attack on 13 July.
Cleator has previously admitted conspiracy to rob Mr Naseer, the jury was told, but is not a defendant in the murder trial.
Mr Unsworth said the plan was for one of the defendants to attack both Mr Hirst and Mr Muneeb while he bought drugs.
He read out one message the prosecution said Mr Hirst sent to Cleator.
It read: "He [Mr Naseer] finks dat I'm bringin sum lad down to buy 4oz off him den use can steam in an giv [me] a dig in da kipper to make it luk like I don't no yaz den jus graft on."
Mr Unsworth read out another message which said "I jus wnt da drugs".
'Compelling' evidence
"We suggest that those text messages demonstrate that these men were cunning, determined and ruthless," he added.
On the night of the attack Mr Naseer was with his housemates at their home in Arundel Avenue, Wavertree, when Mr Hirst, Mr Johnson and Mr Clarke arrived.
After about 20 minutes, Mr Johnson and Mr Clarke were seen on CCTV driving away from the area.
The second-year student was found lying on his bedroom floor, bound and bleeding. He died later at Royal Liverpool Hospital - where he was attached as a medical student.
A post-mortem examination concluded the fatal injury was a single stab wound to the thigh which severed a vein.
Mr Unsworth told the jury there was no direct evidence to establish which defendant inflicted the stab wound.
But he added: "The evidence of the involvement of these three men in this attack is, we suggest, utterly compelling."
The trial was adjourned until Thursday.