Man sentenced over Liverpool student death crash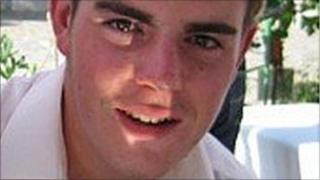 A car thief who killed a student while attempting to evade police in Liverpool has been jailed for nine-and-a-half years.
David Gaskell, 21, from Everton, hit Andrew O'Neill while driving an Audi Q5 on Dale Street on 27 November.
The 20-year-old from County Tyrone, who was a student at Liverpool John Moores University, died of multiple injuries.
Gaskell was sentenced at Liverpool Crown Court after admitting causing death by dangerous driving.
The court was shown CCTV footage of officers surrounding the car and trying to smash through its windows with batons.
But Gaskell drove the car over a pavement, missing two pedestrians, before driving off at speeds of up to 50mph (80km/h) the wrong way down a one-way street.
'Bulldozed through traffic'
He struck a taxi before driving into Mr O'Neill - carrying him on the bonnet for about 40m (131ft) - and fleeing the scene.
Robert Jansen, prosecuting, told the court that in a police interview Gaskell's co-accused Lewis Gandy, 20, from Croxteth, admitted being in the car to go on a "joy ride".
He described the drive along Dale Street as "something like a video game where you swerve to avoid oncoming objects", the court heard.
Gaskell, who also pleaded guilty to aggravated vehicle taking and driving whilst disqualified, left the car and ran onto a flyover, where he fell about 20ft to the ground, breaking his leg.
Front seat passenger Gandy was sentenced to four years in a young offenders institution after pleading guilty to aggravated vehicle taking.
Sentencing Gaskell and Gandy, Recorder of Liverpool Judge Henry Globe QC said: "In all, your case is almost as bad as any case could be.
"The only aggravating factor that doesn't apply to your case is the death of more than one person or injury to other people.
"That was an element of good fortune rather than any other factor."
'Popular young man'
Gaskell, who the court heard had previous convictions for dangerous driving, was also banned from driving for seven years.
Simon Christie, defending him, said his client was full of remorse and had written a letter to the family of Mr O'Neill in which he said: "I understand that I have devastated the O'Neill family and taken the life of a very popular young man."
Speaking after the hearing, Mr O'Neill's father Brendan and grandmother Mary said they believed Gaskell remorse was just a bid to get himself "off the hook".
Mrs O'Neill said of the second-year building and surveying student: "He had a big future ahead of him. He was at university.
"He wanted to go to New York for a year out and then go to Canada for a gap year."
His mother, Anne Cumberland, said: "I have lost my beautiful son; our lives will never be the same."
A third man, Jack Dempsey, 23, from Kensington, Liverpool, got out the moving Audi when it slowed to turn on to Dale Street and before it collided with Mr O'Neill.
He was sentenced to four months in jail after pleading guilty to aggravated vehicle taking.
A fourth man, Christopher Doyle, 22, also from Kensington, was pulled out of the car by police on North John Street when they were trying to stop the car.
He admitted knowing the car was stolen and was given one day's detention at an earlier hearing as a default sentence, as he was recalled to prison for breaching his parole.