Murdered Liverpool man in previous gun attack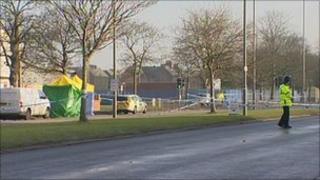 A man who was shot dead on Merseyside was the victim of a previous gun attack, police said.
Joseph Cummins, 25, was found injured in Longmoor Lane, Fazakerley, on Thursday night. He died in hospital of gunshot wounds to his back.
Police said that in 2009 Mr Cummins was shot in the back in nearby Gribble Road, Fazakerley.
An investigation was launched at the time, but no arrests were made.
Police said they were not linking the two shootings.
Mr Cummins died after he was shot several times as he tried to get into the passenger seat of a car.
Police said he managed to walk to Fazakerley Car Sales garage where he collapsed and was discovered by a patrol car.