HMS Manchester's crew in final march through city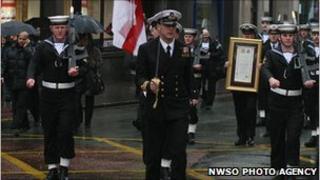 HMS Manchester's crew has taken part in its final freedom of the city parade, before the ship is decommissioned later this month.
The Type 42 destroyer, used in the 1991 Gulf War, is being taken out of service as it is now 30 years old.
A service was held at Manchester Cathedral at 1000 GMT, before the crew marched to Albert Square.
A civic reception is being held at Manchester Town Hall when the Freedom of the City Scroll will be handed back.
Commander Rex Cox, the ship's commanding officer, said: "It is a day of mixed emotions.
"We are delighted to be back in our adopted city and to march through the city but it is a sad day as well because we are marching for the last time.
"It is our chance to say goodbye to the people of Manchester."
Councillor Mark Hackett, the Lord Mayor of Manchester, said he spoke for the whole city when he said everyone was very proud of the association with HMS Manchester.