Ex-Unite leader Tony Woodley calls for cuts uprising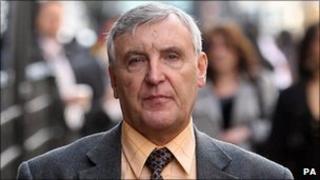 The former leader of the country's biggest trade union has called for a "national uprising" over government spending cuts.
Tony Woodley, who stood down as general secretary of Unite in January, said the cuts were ideologically driven and politically motivated.
The Merseyside-born official said people needed to put pressure on the government, as in the poll tax years.
The government said it had to prioritise reducing the £150bn deficit.
A spokeswoman for the Treasury said: "Every household is going to be paying an average of £1,000 a year just to pay the extra debt interest.
"Unless the deficit is tackled there won't be the economic confidence to support jobs, investment or growth."
Mr Woodley, who grew up in and still lives in Wallasey, said he was "extremely annoyed" about the spending cuts, including those that councils were having to impose across Merseyside and other deprived areas across the country.
'Direct action'
Liverpool City Council has made cuts of £91m for the next financial year, and must find a further £50m by April 2013. Across the Mersey, Wirral Council has found savings of £50m.
"There has got to be direct action," Mr Woodley said.
"We have got to generate the same pressure on this government, who have no licence to do this, as was done during the poll tax years.
"Politicians listen when they think they are going to lose their seat. Governments listen when they think they are going out of government.
"It has to be a national uprising."
Mr Woodley, a former shop steward at Vauxhall in Halewood, said he did not believe the deficit needed to be reduced at its current rate.
"The debt was higher after the Second World War yet we created the NHS.
"If we had done after the war what the ideologically driven Tories are doing then our country would never have recovered."
The Treasury spokeswoman said the government would be reducing the deficit "as fairly as possible" and that it would "continue to engage constructively with public sector unions".