Wirral and Sefton coast protection plans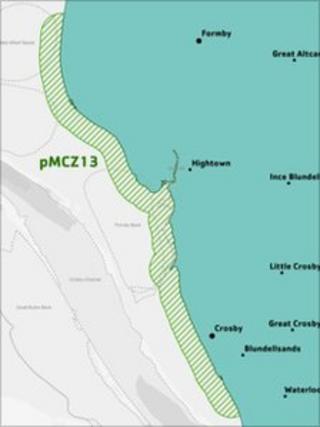 Maps have been revealed showing two possible marine protection zones off the Merseyside coastline.
Hilbre Island in Wirral and coastline from Formby to Crosby in Sefton are identified as important sites of marine life in a report by the Irish Sea Conservation Zones (ISCZ) Project.
The areas could become protected Marine Conservation Zones with restrictions on fishing and sea leisure activities.
The ISCZ wants to hear views of people who regularly use the areas.
Dr Greg Whitfield, ISCZ project manager, said: "This latest progress report is the last big chance for people to comment on possible Marine Conservation Zones before the recommendations go to the government.
"We had over 80 responses to our last progress report and we are hoping to hear from at least as many people again this time round."
The possible zone on the Sefton coast plans to protect the intertidal peat beds that occur in an area covering 11.5km2.
Preserved within them are remnants of a submerged ancient forest and also examples of ancient human and animal footprints.
Over 200 trails of footprints from the Mesolithic to Neolithic ages have been recorded.
The possible Marine Conservation Zone off the Wirral coast aims to bring added protection to the popular Hilbre Island and the Little Eye and Middle Eye islands at the mouth of the Dee.
The area around the Dee Estuary is a well regulated fishery and is also already protected by other designations including a Special Area of Conservation.