Edge Lane redevelopment approved by government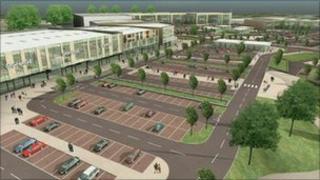 The government has backed a £200m plan to regenerate a stretch of a main road into Liverpool.
The Department of Communities and Local Government has confirmed that it will not be calling the development in for a public inquiry.
It involves building a new community park, restaurants, retail and leisure facilities along half a mile of the Edge Lane corridor.
Liverpool City Council approved Derwent Holdings' plans last year.
'Major investment'
Council Leader, Councillor Joe Anderson, said: "I'm delighted that the government has not called in the Edge Lane plans for public inquiry and has given the green light to press ahead with this vital scheme.
"At a time of austerity, it's reassuring that we can still attract major private investment to deliver major schemes which are so important for the future of our city," he added.
Derwent Holdings Ltd is one of several companies built up by Isle of Man-based millionaire Albert Gubay, whose assets are now held by the charitable foundation he founded.
John Taylor, property agent for Derwent Holdings, said: "We are delighted to secure this positive milestone and we look forward to constructing this development, which has very significant occupier interest."