HMP Liverpool inmates moved over officer attacks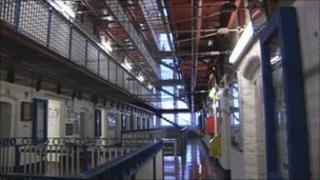 Inmates have been moved from a Liverpool prison after a spate of attacks on officers.
Thirteen officers at HMP Liverpool have been assaulted in the past few weeks, including three on Wednesday, the Prison Officers Association (POA) said.
The Walton jail was put on lockdown for a short period of time, for talks between staff and the governor.
About 30 prisoners have been moved to jails across the country, national vice chair of the POA Tom Robson said.
"The staff are pretty angry about this and need protection," Mr Robson said.
He said the governor had taken staff's concerns seriously and they were working together to resolve the problems.
A spokeswoman for the Prison Service said: "Following a series of unconnected incidents at HMP Liverpool on 9 March, a number of prisoners have been relocated to other establishments.
"The National Offender Management Service and the Prison Officers Association (POA) are jointly committed to a zero tolerance approach to violence in prisons."