Liverpool commuters face 12-month Edge Lane roadworks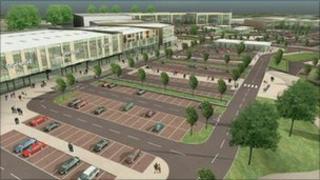 Motorists travelling on one of the main routes into Liverpool city centre are facing delays for the next year.
The latest phase of a £350m scheme to make Edge Lane a safer and more attractive route into the city centre is under way.
Liverpool City Council said that once the route is widened into a dual carriageway journey times and congestion would be reduced.
The roadworks are scheduled to take place until February 2012.
As well as widening the road, contractors are building a new central reservation, re-modelling junctions, improving pavements and installing new street lights.
Council apology
Edge Lane is being reduced to a single outbound lane from the city centre during the works.
Inbound traffic will remain in two lanes during the morning rush hour, but will reduce to a single lane for the remainder of the day.
Councillor Malcolm Kennedy, member for regeneration and transport, said the plans would "create a long-term solution to congestion and create a safer and attractive route into Liverpool".
"We do appreciate that these works will inevitably cause delays for some, and we apologise in advance for that.
"However, it is impossible to bring about these massive improvements, which will benefit motorists for many years to come, without some short-term disruption.
"We would ask motorists to be patient while this work is on-going."
Edge Lane, which links the city with the M62, is under going a regeneration which includes new housing, a new retail park offices and community facilities.