Liverpool book of condolence for Japan quake victims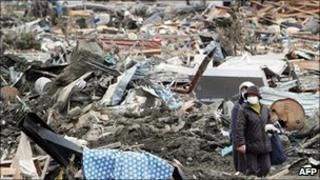 People in Liverpool are being given the chance to send their thoughts to the victims of the Japan earthquake.
A book of condolence is being opened at the town hall for residents to leave messages of support for those affected by the disaster.
Relief efforts are continuing five days after the tsunami triggered by the magnitude-9.0 earthquake.
The latest death toll stands at about 2,400, but some estimates suggest at least 10,000 may have died.
Liverpool Lord Mayor Hazel Williams, Council Leader Joe Anderson and other civic dignitaries were opening the book on Tuesday morning.
'Thoughts and prayers'
It will remain open for local people to add their messages until Saturday.
Mrs Williams said: "No-one who has seen the footage of the aftermath of the disaster in Japan can fail to have been moved by the terrible scenes of complete and utter devastation.
"It is impossible to imagine what the conditions must be like, and the grief that those who have lost loved ones, livelihoods and homes are suffering.
"Our thoughts and prayers are with the people of Japan at this dreadful time and our hearts go out to all of those affected."
Mrs Williams and Mr Anderson have written to Japan's ambassador in the UK, His Excellency Keiichi Hayashi, with a message of condolence on behalf of the city.