Shotgun gang's getaway car image released by police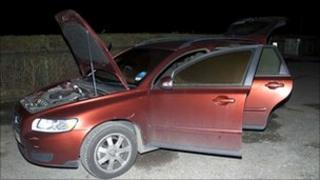 Detectives on Merseyside have released images of the suspected getaway car used by a gang who burst into a man's home and shot him in the leg.
A number of men, armed with a shotgun and a crowbar, forced their way into the house in Prescot on Monday night.
They demanded cash from the 24-year-old before hitting him with the crowbar and shooting him in the leg.
The gang are believed to have escaped in a red Volvo estate which was later found at Whiston Cemetery.
Detectives from Merseyside Police are working to establish a motive for the shooting, which happened on Eaton Street, but believe it was targeted attack.
They hope that releasing images of the getaway vehicle, which was stolen from an address in Mayfield Close in West Derby on 7 March, will help them find the men responsible.
Licence plates
Det Supt Richie Davies, said: "I would appeal to anyone who may have seen this car to come forward.
"The original licence plates on the car were DA08 TZD and at the time of the offence the front licence plate was MF09 KFP.
"If you have seen this car in the last week, or have any information which could help us, please come forward so that we can arrest those responsible."
The victim is recovering in hospital where his condition is described as stable. His injuries are not believed to be life-threatening.