Liverpool FC urged to make Anfield stadium decision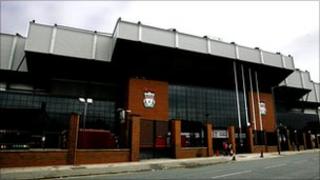 Residents of Anfield in Liverpool have urged Liverpool FC officials to make their mind up on whether the club will be building a new stadium in the area.
The club's new owners Fenway Sports Group is considering refurbishing the existing stadium.
Community leaders said the delays are causing uncertainty in an area desperate for much-needed regeneration.
The club said it is examining all options before deciding on whether to build a new stadium or revamp Anfield.
'In the loop'
Ros Groves, who chairs the Anfield and Breckfield Physical Regeneration Group, said residents are living in limbo.
Ms Groves, who has lived in Anfield for 33 years, said: "What I would like is if they could just come out and tell us what's going on."
She added: "We just need to be kept informed over and above by the media... we just need to be kept in the loop."
Councillor Jimmy Kendrick said local people are unhappy at the delays to regeneration, adding: "There are two parts to this, the council regeneration programme hasn't totally worked and Liverpool FC's stalling over whether to relocate to Stanley Park or renovate the existing stadium."
A club statement said it had worked closely with the City Council and the local community for more than a decade on the realisation of the Anfield Breckfield Regeneration Framework.
The club said it has contributed £9m to enable Liverpool City Council to access approximately £18m of public funding from Europe and central government to achieve these elements of the regeneration programme.
It said it remained committed to the regeneration of the area and working closely with the city council and local community groups, adding: "The club owners have previously stated that they will examine all the options available to them before making a decision on whether Anfield is refurbished or a new stadium is built."