Folk and fashion come together for Liverpool gigs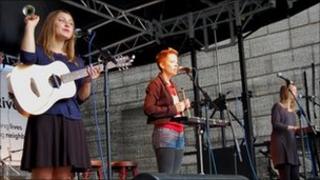 Merseyside's music and fashion scenes come together for a series of new monthly music nights in Liverpool.
Good Night Music will showcase the best in local unsigned folk music and the city's fashion scene.
Artists will perform at the gigs at Leaf Café in Bold Street wearing vintage clothing from Liverpool's Dandelion Girl boutique.
Local bands Stealing Sheep and The Big House will perform at the first of the monthly nights on 18 March 2011.
Dandelion Girl owner Kate Derefaka told BBC Radio Merseyside that the gigs are an opportunity to promote talent in Liverpool.
"It's about getting in touch with new bands and mixing fashion and music.
"The fashion element and the fact that this is a folk night mean that this will be a softer sounding night compared to other shows in Merseyside.
Misty Miller, The Secret Sisters and The Chaplin Sisters will perform in April, May and June, 2011.
"The bands we've got so far are quick folk and country to go with the venue, and to also go with the vintage clothing," Kate said.
"We promote folk and blues and psychedelic music inspired by the sixties and seventies, in particular."
Local musicians interested in taking part can contact the organisers via Facebook: Dandelion Girl