Merchant Taylors' pupil recreates school with Lego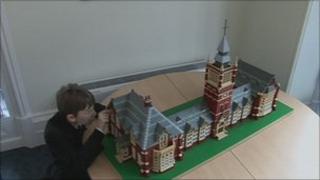 A 12-year-old boy has built a model of his Merseyside school using 10,000 Lego bricks.
Laurence Duncan, who wants to be a structural engineer, spent 10 months recreating Merchant Taylors' Boys' School in Crosby.
He had already made a model of Paris' Eiffel Tower, from a kit, and his father suggested he build something from scratch.
His school was one of the first buildings that came to mind.
"It seemed simple at the beginning," he said. "But then all the detail had to come in and that took a long time."
Merchant Taylors' Boys' School head teacher David Cook said he was hoping Laurence would donate the model to the school.
"The frontage of Merchant Taylors is an iconic building so to have that sort of model of that standard would be wonderful for the school," he said.
"But I need to persuade Laurence."
Laurence, who spent about two-and-a-half hours a week on the model, is now starting work on his next project - a motorised scooter.