Police urge people to 'search consciences' over murder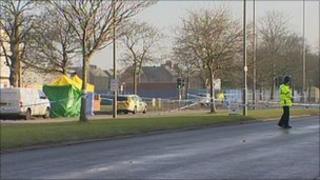 Detectives investigating the fatal shooting of a man in Liverpool are appealing to people with information to "search their consciences".
Joseph Cummins was shot dead in Longmoor Lane, Fazakerely on 20 January. Police said it was targeted.
Detectives believe the 25-year-old was getting into a car when he was shot several times. Post-mortem tests he died from gun shot wounds to his back.
Two people have been arrested but no-one has been charged.
Mr Cummins had also been shot in the back in nearby Gribble Road, Fazakerley in 2009, police said.
'Strictest confidence'
Det Ch Insp Phil McEwan, of Merseyside Police, said: "Longmoor Lane is a very busy road and I would ask for anyone who may have seen or heard something on the night, no matter how small, to come forward.
"I would hope that the passing of time will enable people to search their consciences and find the courage to come forward to tell us what they know.
"We understand that people are sometimes reluctant to come forward in the aftermath of such a serious crime as this.
"Anyone with information can speak to us anonymously and in the strictest confidence if need be."
He added: "Your information could help us make significant progress in this investigation and help us find justice for Joseph's friends and family."