Police rule out gang link in Liverpool car crash murder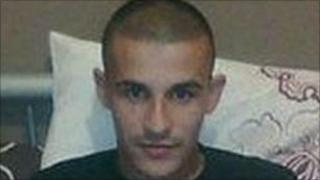 Detectives investigating the death of a Merseyside man who was run over by a car after an argument have ruled out gang involvement in the killing.
Darren Bates, 23, died in hospital after being hit on North Hill Street, Toxteth, at 0020 GMT on Thursday.
Police have been searching homes of suspects, but said that they needed witnesses to come forward to help make arrests and bring charges.
A spokeswoman said the crime was not linked to organised crime or gangs.
Mr Bates, a keen sportsman, was the father of a four-year-old son, Callum.
'Give yourself up'
He was involved in an argument with a man an hour before his death, which led to more arguments with up to four men on North Hill Street, police said.
Det Ch Insp Cath Adams said: "This is not part of an organised crime faction or a gang faction - Darren was a young father who did not deserve to die in the way that he did.
"It was a deliberate attack on Darren and it left him dying on the ground and he has left a devastated family.
"Whoever did this - give yourself up.
"You know who you are. Come forward and give the family at least the peace of knowing the truth of what happened that night.
"People should not feel that the police have got this in the bag as we need everyone's help out there to bring this to a satisfactory conclusion."
Officers also want to trace a dark-coloured saloon car seen being driven away from the scene erratically.