Improved Liverpool access route opens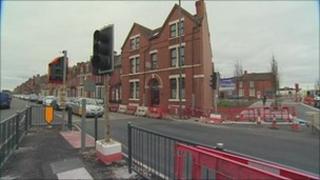 A new carriageway designed to ease traffic congestion on a major route into Liverpool has opened.
The section of the road in Kensington, called Low Hill, is part of the £19m Hall Lane strategic gateway scheme to improve access in the east of the city.
The new carriageway will be single lane for the first few weeks as work to complete verges is still taking place.
Construction began at the beginning of the year and will be completed by summer 2011.
'Reduce congestion'
The aim of the scheme is to take traffic out of residential areas.
It will also include improved public transport, cycle paths, street lighting and CCTV.
This means the previous route Hall Lane, will now be for access only and traffic will be redirected via Low Lane and Mount Vernon.
Councillor Malcolm Kennedy, said: "This will be a much-improved route in and out of the city centre which will improve road safety, journey times and reduce congestion.
Nick Kavanagh, the city council's director of regeneration, said: "These works will make our city more attractive to visitors and inward investors, help the local environment with reduced congestion, and deliver better road safety for all."