Liverpool special effects company creates TV body parts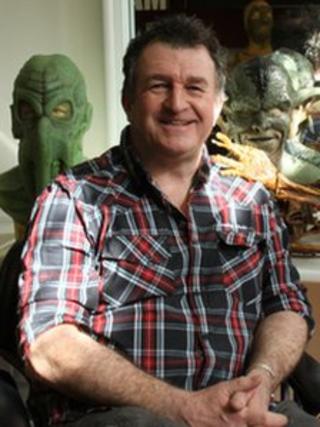 A Liverpool-based company is making prosthetic body parts for a new BBC One television programme.
MakeupSFX is creating the fake bodies for crime series The Body Farm, which stars Tara Fitzgerald as forensic pathologist Dr Eve Lockhart.
The company, based on Liverpool's Victoria Street, has previously worked on Dr Who, Pirates of the Caribbean and Band of Brothers.
Director Davy Jones began his career working on props for Brookside.
"We've got a five-month stretch ahead of us," he said, about the Body Farm work.
"We're in preparation of making bodies of all different variations of decomposition, from skeletons to bloated bodies, to bodies in water.
"We sit and have a meeting where they get the tone of what the show is.
"They give us a list of locations and then we research that."
In addition to his own research Mr Jones is advised by a forensic expert on how the body parts should look depending on their situation.
"We get all that information and then set about body casting and building and replicating everything and fabricating the bodies," he said.
Filming has started on The Body Farm, which is a spin-off from Waking The Dead, currently in its final series.
The new series will star Keith Allen as a Detective Inspector alongside Tara Fitzgerald's forensic pathologist character Dr Eve Lockhart.
Before he worked in special effects, Mr Jones worked for Brookside designing props and only created prosthetics as a hobby until his wife, a make-up artist for Mersey Television, persuaded him to make a career of it.
"I would never have thought I was going to do this," he said.
"I was props at Brookside for round about seven years and then one day a prop ends up being a little body part and I just sort of got hooked on that.
"It became a hobby.
"I just started casting with alginates, the stuff that dentists use for teeth, and plastic and latex.
"I more or less just taught myself, building up and building up until I decided, at the ripe old age of 29, I wanted to go in to make-up."
MakeupSFX have worked on many different TV series and films, including the make up for Geoffrey Rush in The Life and Death of Peter Sellers, which took four hours to apply each day.
"We've been really lucky that in Liverpool we've managed to forge a name for ourselves and build a reputation, we've had some really nice shows," Davy said.
"Generally anything that's good in the North West we'll get a stab at first."