Liverpool Sailors' Home gates returning to city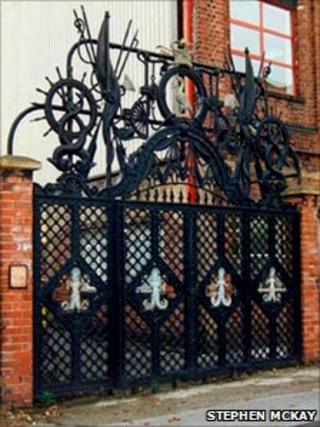 Gates from the former Liverpool Sailors' Home are to return to city after standing for 60 years at a factory in the West Midlands.
The Grade II listed, cast iron gates marked the entrance to the home, which opened in Canning Place in 1850.
Designed by West Derby-born Henry Pooley, they feature one of the oldest examples of the Liver Bird motif.
The gates will return to the city, to be sited in the Liverpool One shopping centre, later in the year.
The gates, which feature nautical symbols including ship wheels and dolphins, were removed in 1951 after suffering bomb damage in World War II.
They ended up in Smethwick's Soho Foundry near Birmingham where they have stood for the past 60 years.
A Liverpool City Council spokesman said: "The gates are an important part of Liverpool's heritage. We are looking forward to bringing them back to their home city.
"We would thank Sandwell for looking after these gates for the past few decades and for granting consent to them to return to heir rightful home.
"A lot of people have campaigned for them to return to Liverpool where they belong."
'Permanent reminder'
The gates will return to the city to form the Sailors' Home Gateway.
Local historian Stephen McKay, who has campaigned for the gates' return, told BBC Radio Merseyside: "From 1850 to 1969 the Liverpool Sailors' Home represented a safe haven for merchant seamen from all around the world.
"The Sailors' Home Gateway will be a permanent reminder not only of the many thousands of merchant seaman that passed through the gates and found a warm welcome within the building, but also of Liverpool's significance as a gateway between the United Kingdom and the world."
A campaign was started in 2008 to bring the gates back to the city where they were made.
A Sandwell Council spokesperson said: "We always said that we would follow the advice of English Heritage on this matter and if they have agreed a siting in Liverpool we will now leave it in the hands of the owners Avery, who have listed planning permission to move the gates to Liverpool.
"We have no grounds to object to the final decision by English Heritage and Avery."