Street pastors planned for Liverpool city centre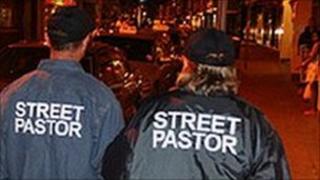 Liverpool city centre streets could be patrolled by Street Pastors to help tackle anti-social behaviour.
The Christian volunteers are in discussions to work with Merseyside Police and Liverpool City Council by summer 2011.
Street Pastors already operate in Southport, West Derby and Ellesmere Port and help people get home safely after a night out.
This would be the first time they have patrolled in Liverpool.
Reverend Keith Hitchman leader of River in the City Christian Ministry said there is a great need in Liverpool city centre.
"There are over 100,000 people on the streets of Liverpool city centre at any given weekend," he told BBC Radio Merseyside.
"There is all the issues and problems that come with that and thats where Street Pastors come in."
"Street pastors are there to help not to preach. Not to get inviolved in what the Police does but just help people in need.
The Street Pastors, who are given special training and wear uniform, would operate on weekends between the hours of 2100-0300GMT.
"The streets of Liverpool are some of the safest streets in the country and the police do a wonderful job in keeping it that way," he continued.
"The people of Liverpool when they go out, they want to have a good time and the vast majority of people dont want to cause anybody any harm or get into any trouble.
"People get ill on the street and people get lost.
"Street Pastors are there just to make sure those people are picked up and not left to get into anymore difficulties."
The Street Pastor scheme is run by the Ascension Trust, which organises similar groups across the UK.