Alcohol misuse tackled in Liverpool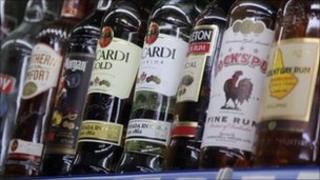 Alcohol misuse is being addressed by health bosses in Liverpool, who have unveiled a three-year strategy to tackle the problem.
The city has the highest numbers of hospital admissions in England related to alcohol.
Residents are also twice as likely to die from an alcohol-specific condition as the national average.
Plans include offering an extra 2,000 people a year help with their drink problems.
The strategy, called Reducing Harm, Improving Care, has been set up by the Liverpool Alcohol Strategy Group, which is jointly chaired by Liverpool Primary Care Trust (PCT) and Liverpool City Council.
It outlines plans for a new community alcohol service, by creating five drop-in clinics across Liverpool.
Harmful levels
GPs, nurses and pharmacists will also be trained to spot harmful drinking in patients who report to them with other symptoms.
Liverpool PCT said more than 350 staff had already been trained to identify those individuals who already consume alcohol above recommended levels, and offer them practical advice about cutting down.
Dr Paula Grey, director of public health for Liverpool, said: "Alcohol contributes to some serious health and social problems in Liverpool - as it does in many other cities - and tackling these issues presents a major challenge.
"It's really important that key local agencies, such as the NHS, the local authority and the police, continue to work in partnership to address both the causes and impacts of alcohol misuse.
"We also need to ensure that the wider population understands what it means to drink at harmful levels.
"Many of those who exceed recommended daily guidelines associate alcohol misuse with teenage binge-drinkers, and do not realise that their own behaviour is putting their health at risk."