Lanterns tribute to soldier killed in Afghanistan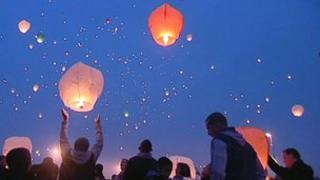 Hundreds of lanterns have been released as a tribute to a Merseyside soldier killed in Afghanistan.
Nearly 2,000 people gathered at Wignall Park, Kirkby, to honour L/Sgt Mark Burgan, 28, who was killed by a roadside bomb last week.
His body is due to be repatriated later with fellow Irish Guardsman Major Matthew Collins, 38, from Backwell, Somerset.
L/Sgt Burgan died six days before the end of his tour of duty.
Family and friends were joined by people, who heard of the informal memorial at his parents' local park through press and social networking sites.
His widow Leanne Burgan, whose father also served with the Irish Guards, said the lantern tribute was particularly touching to her.
"It is something that me and Mark would do for our son Archie, who we sadly lost less than two years ago," she added.
"It touches me more to think that people have chosen lanterns because that is something we would do."
L/Sgt Burgan and Major Collins, who both served with 1st Battalion The Irish Guards, were killed when their vehicle was caught in a blast from an improvised explosive device.