Shorefields school teachers strike over academy bid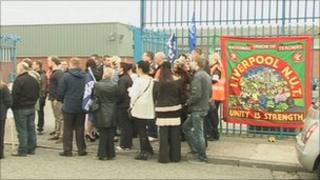 Teachers at a secondary school in Liverpool have gone on strike over proposals to turn it into an academy.
Governors at Shorefields Technology College, in Dingle, believe pursuing academy status would help secure extra funds to improve the school.
But teachers are concerned the move might damage the quality of education at the school, the National Union of Teachers (NUT) said.
A consultation with parents and teachers is yet to take place.
Teachers were joined by parents and pupils on the picket line outside the school gates, on Dingle Vale, on Wednesday.
Closure fears
Julie Lyon-Taylor, of the NUT, said members were concerned that turning the school into an academy would make it a "privatised, private business".
"It's handing our school away from the community and into the hands of people that aren't even part of this community, who have no understanding of this community.
"The teachers in that school are really concerned about the children that go to that school and maintaining the high quality education that they give to the children."
Shorefields Technology College currently has about 600 pupils - but has room for 900.
Governors believe pursuing an academy, possibly sponsored by the University of Chester, could help avoid the need to merge with another school in future.
Head teacher Alison Dearden said: "This school will not change. It's here for the community, we're here for the children and Chester want to support that.
"At the moment there is re-organisation taking place in Liverpool... the first choices for next year are low.
"Somewhere, at some point, we may find that - if the school wasn't closed - we may be amalgamated with another school.
"Some action would be taken because clearly it is not value for money to have 600 children in a school for 900."