Prince Harry joins North Pole disability challenge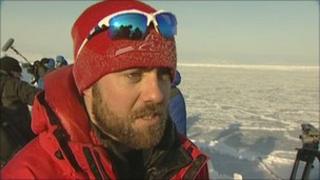 A soldier from Cheshire, who was wounded in Afghanistan, has been joined by Prince Harry as he attempts to break a North Pole record.
Widnes-born Captain Martin Hewitt, who lives in Wilmslow, is in a group hoping to become the first disabled team to walk unaided to the pole on Friday.
His arm was paralyzed by a gunshot wound and he hopes to raise £2m for Walking With The Wounded charity.
Its patron Prince Harry will spend five days with the team.
He has been training with Captain Hewitt in Norway in preparation for the 200-mile trek in -50ºC temperatures, when each member of the eight-man team will drag a 100kg sled.
Four of the team are disabled servicemen.
Part of their training has involved cross-country skiing and throwing themselves into icy water to test inflatable survival suits.
Speaking about Prince Harry, Captain Hewitt said: "We've got a new member of the team and he's fitted straight in.
"We had a good day on the ice with him yesterday an did ten miles with him.
"He's a surprisingly good skier. He was straight in with no problems.
"We'd been hoping that he'd fall over a few times and entertain us, but there was none of that he just fitted straight in and is very down to earth as well."