Burton's Moreton biscuit factory considers new plans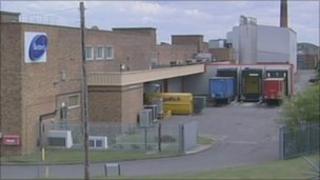 Workers at a Wirral biscuit factory which is set to close with the loss of 342 jobs have drawn up alternative plans to try to keep it open.
Burton's Foods, which bakes brands such as Jammie Dodgers and Wagon Wheels, wants to close its site in Moreton after a business review.
Unite union representatives have submitted fresh proposals, created after studying the firm's figures.
A 12-week consultation period between the firm and workers is about to end.
The company wants to use savings from the planned closure to invest £7m at its manufacturing sites in Edinburgh and Llantarnam, South Wales.
'Speaks volumes'
Burton's has not revealed when it plans to close the site, but Unite said it believed the firm had a contractual obligation to continue operating until 2012.
Unite regional officer Ritchie James said: "It is absolutely tragic that these workers find themselves in this position.
"This plant, making popular products, has a loyal and committed workforce whose alternative plan to closure should be considered as a serious proposal.
"It speaks volumes about the state of UK industry that, despite these advantages, we are now here to plead for a future, but we are proud of what this plant has achieved and are convinced of its future.
"We will put our counter-proposals to the Burton's board confident in our view that this plant can go from strength to strength and that closure must not be an option."
'Open mind'
A Burton's spokesman said: "Since January Burton's Foods has provided Unite's employee representatives comprehensive access to company facts and data to assist them in the important process of building their counter proposal.
"Burton's Foods will look at the proposal with an open mind following its presentation to the company Board later.
"We have worked responsibly, constructively and openly with Unite and will continue to do so throughout the consultation process.
"We will consider all elements of the counter proposal over the coming days and weeks."