Merseyside mothers sent gun crime warning cards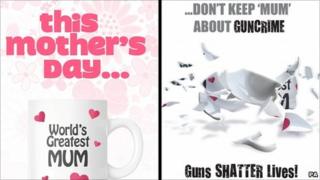 Mothers of young men believed to be involved in gun crime on Merseyside are being sent cards urging them to pass on information to police.
Merseyside Police are sending out the Mother's Day cards which read: "Don't keep mum about gun crime."
They hope the message will encourage women to help turn their children away from a life involving gangs and guns.
Anti-gun campaigner Paula Ogungboro said the stunt was "disgusting" and would devastate some mothers.
'Strong bond'
The force said the aim of the card was to get mothers to contact the Matrix team, the gun and gang crime unit.
Det Ch Supt Paul Richardson said: "We want to reduce gun crime on our streets and stop anyone else from getting seriously injured or killed through the futile use of guns.
"We are hoping that the strong bond between a mother and her child will help mothers to come forward and speak to us so we can help to prevent their child from being jailed, seriously injured or even killed.
"No mother wants to lose a child and I would urge anyone who knows that their sons, or daughters, have got links to gangs involved in guns, to contact us and help us tackle the issue before it is too late."
Mrs Ogungboro, 53, from Toxteth, launched campaign group Mothers Against Guns in Liverpool after her son, Eugene, was shot dead in 2003.
Asked what she thought of the idea, she replied: "I think it's disgusting actually.
"At the end of the day any mum that know their kids are dealing in guns would say something to their child.
"But to send them a Mother's Day card... Would they like their mother to get a card like that? It's quite distasteful.
"It's not the mothers that's got the gun is it? At the end of the day it's the kids who have got the guns and it's down to the police to deal with the kids, not the parents."
Mrs Ogungboro said there would be a number of mothers unaware of what their children were up to, adding that she would be "devastated" to receive such a card.