John Stapleton explores Greater Manchester's history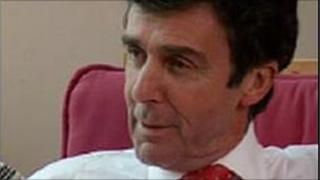 Presenter John Stapleton is fronting a new BBC radio series delving into the the history of Greater Manchester.
The hour-long shows look back at the people, places and events which have shaped the region's ten metropolitan areas.
Featured are a tragedy that killed over 300 young men, the life of Rochdale singer Gracie Fields and even a visit from Ghandi.
The series is broadcast from Monday 4th April on BBC Radio Manchester.
John Stapleton, originally from Oldham, covers a variety of the region's historical milestones from the Industrial Revolution to the 1960s and 70s.
The Pretoria Mining Disaster which killed more than 300 men and boys in Westhoughton and Ghandi's visit to the region's mill towns in the 1930s, are featured in the ten programmes.
The series also explores the lives of Bolton steeplejack Fred Dibnah, persecuted code breaker Alan Turing and former Prime Minister Sir Robert Peel.
He said the series was "a fascinating insight into the rich heritage of our towns and cities and the impact their history has had on the world we know today."
The shows will air at midday each day for two weeks on BBC Radio Manchester (95.1 FM/ DAB) and will also be available via the BBC iPlayer.