Merseyside Police van named after crash victim Demi Leigh Royle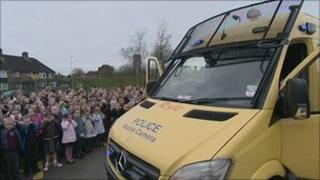 The mother of a girl killed by a drunk driver has named a police van after her in the hope that it will help make the roads safer for other children.
Six-year-old Demi Leigh Royle was walking down a road in Huyton, Merseyside, when she was struck by Ross Robinson's van on 16 May 2008.
The van will be used by the Matrix unit, which targets gun and gang crime.
Its officers have visited Demi Leigh's former school to teach pupils about the dangers of being involved in gangs.
Paula Royle officially named the van at St Columba's Catholic Primary School on Friday.
Joined by many of Demi Leigh's former friends, Ms Royle said: "The school have done this, her school friends and the people who have supported us from the beginning.
"She is still remembered and that means a lot to me."
Head teacher Ronan Dunne said it was vital for children to have links with the emergency services.
"Our children are brilliant and all they need really is the chance to shine and to show that," he said.
"Projects like this can show the world that Huyton is full of talent and full of children who have their heads switched on properly."
Supt Richie Davies, from the Matrix team, said: "The police are integral into the community.
"We want to keep the community safe, and any of those messages that we can get across, to break down those barriers, to keep the community safe, we are happy to be involved with."
Ross Robinson was 24 when he pleaded guilty to death by dangerous driving at Liverpool Crown Court in 2008.
He admitted drinking five pints before speeding down the wrong side of a dual carriageway.
The father-of-three from Huyton, Knowsley, fled the scene but police officers caught him the next morning and he took a breath test.
He was jailed for nine years and banned from driving for 10 years.