Wirral Burton's biscuit workers pleased with meeting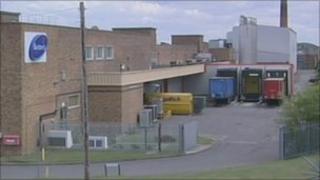 Workers at a biscuit factory threatened with closure in Wirral emerged pleased from a meeting with managers.
Burton's Foods, which makes Cadbury's and other biscuits, plans to close its Moreton site with the loss of 342 jobs.
On Friday, Unite union representatives submitted proposals to keep it open after studying the firm's figures.
The union said it was pleased with the chance to make its case for the site. Burton's has promised to examine the new plan "with an open mind".
Ritchie James, Unite regional officer, said the union believed it had a "strong case".
"We urged the company to give very serious consideration of these proposals and it was heartening to have the company confirm that they are yet to make any decisions on the business direction that could impact on the Moreton site," he said.
Burton's has not revealed when it plans to close the site, but Unite said it believed the firm had a contractual obligation to continue operating until 2012.
A Burton's spokesman said: "We have worked responsibly, constructively and openly with Unite and will continue to do so throughout the consultation process.
"We will consider all elements of the counter proposal over the coming days and weeks."
Labour MP Angela Eagle, Unite officials and representatives from the plant all attended the meeting in London with Burton's CEO, Ben Clarke.