Liverpool Everyman Theatre reveals final shows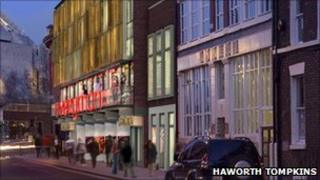 Liverpool's Everyman Theatre has revealed its final shows before the venue closes for a £28m redevelopment in July 2011.
The Mersey Sound poets Roger McGough and Brian Patten will perform a special show on 20 June while 1970s band Deaf School perform on 17 and 18 June.
The theatre will be running public tours of the building from mid-May.
The final major production, Macbeth starring David Morrissey, has been extended by a week to 11 June.
Leeds-based Slung Low productions are working with the Everyman on a finale performance for Saturday 2 July.
400-seat venue
Liverpool Everyman and Playhouse Theatre's artistic director Gemma Bodinetz said "Saying farewell to our much-loved theatre will be a profoundly moving event for all who have worked and performed here and indeed for the people of Liverpool.
"We hope that our planned events will honour the thousands of memories the Everyman contains but feel secure that its new incarnation will prove to be an even greater resource for our audiences, youth theatre, communities and artists of the future."
The redevelopment programme will see the theatre completely rebuilt into a 400-seat venue and the attached Everyman Bistro will be included in the new theatre, which will open in 2013.
The Everyman opened in 1964 and launched the acting careers of Jonathan Pryce, Julie Walters, Bill Nighy and Pete Postlethwaite.
Occupying what was previously a cinema and chapel Hope Hall, the theatre was partly rebuilt in the 1970s.
The redevelopment is funded by Arts Council England, Northwest Regional Development Agency and the European Regional Development Fund.
The new theatre will include a dedicated space for the Everyman Youth Theatre which has previously been attended by Ian Hart, Stephen Graham, David Morrissey, and Cathy Tyson.
While the Everyman is closed the annual Christmas Rock n' Roll pantomime will move to its sister theatre the Liverpool Playhouse.