Ex-players recall Everton FC boss Harry Catterick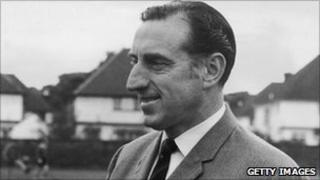 Two former managers of Everton FC have been recalling their playing days under manager Harry Catterick, 50 years after he was appointed to the Everton job.
Howard Kendall and Colin Harvey, who both subsequently managed the club, played for Everton when Catterick was manager in the 1960s.
Catterick was appointed Everton boss on 17 April, 1961, he remained in charge until ill health forced his retirement 1973, winning two league titles and an FA Cup.
Both Harvey and Kendall believe their former manager has not been given the recognition his achievements deserve.
Could be aloof
"I've nothing but praise for him," said Harvey who went on to manage Everton from 1987 to 1990.
"Harry Catterick doesn't get the accolades he deserves.
"He was at Everton for 14 years, he produced two or three teams. He won the championship with two different sides, he won the cup.
"He was almost the opposite to Bill Shankly who courted the press, and Harry didn't do that, and I think consequently suffered for it."
Kendall, who as Everton manager in the 1980s would better Harry Catterick's trophy haul, agrees his reputation suffered due to his reluctance to deal with the press.
"I don't think that he was a great fan of the media," he said.
"When things go wrong the media do heap on a lot of pressure, I think he got that when things were going wrong."
While Catterick could be aloof with the media, he recognised how the introduction of television coverage would change football.
In a rare interview with BBC Radio Merseyside in 1970 he said: "I personally feel that we now have the toughest task ahead of us.
"Television, and colour television in particular is now putting out some excellent entertainment.
"We have a terrific rival for the entertainment of the public, and have got to match this.
"The only way we as clubs can do this is by playing more entertaining football, but this can only be done if we accept one principle, that losing is no disgrace.
"I'm as disappointed as the next fellow if we lose but I always feel that if we play good football there's hope for the future because we're going to win some matches. We try and play an open type of game.
"It would appear that spectators, some managers, some coaches are pressurised to such an extent that they feel to lose is a disgrace.
"The people who pay at the turnstiles are the people who keep this game going."
Catterick died of a heart attack at Goodison Park on 9 March, 1985, shortly after watching Everton play an FA Cup tie with Ipswich Town.