Wounded soldier reaches north pole with charity trek team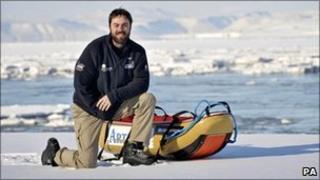 A soldier from Widnes, who has a paralysed arm after being shot in Afghanistan, has reached the north pole after a 13-day trek.
Capt Martin Hewitt, 30, reached the pole on Saturday, 16 April with the Walking With The Wounded team.
Prince Harry, the patron of the charity, joined the team for the first four days of the expedition.
It is the first time a group of servicemen with such serious injuries have reached the north pole unaided.
Capt Hewitt, who was part of the six-man team, said: "It was a fantastic experience, it really was. It was unique.
"Just prior to us getting to the pole, we stopped 400 metres short and got into a line abreast and walked across together.
"The ice is constantly moving, so you're looking for the point.
"That took us a little bit of time, but then the moment came when the guide turned around and said, 'boys, you're standing on the geographical north pole'.
"I felt a huge sense of relief that we'd made it, that we'd done it."
Capt Hewitt pulled a 220lb (100kg) sled for more than 170 miles (274 km) in the trek and with ice as hard as concrete, any falls by the soldiers could have meant the end of the expedition.
"An element of luck was involved with this, as with any expedition of this nature when the variables are out of your control - the weather, Mother Nature herself," he said.
"You need a bit of Lady Luck on your side."
Capt Hewitt was commissioned into the Parachute Regiment in 2004 and commanded a rifle platoon.
He was shot in the shoulder during combat in 2007. The bullet severed an artery and all nerves to his right arm.
The soldier also suffered a collapsed lung and a shattered shoulder blade and needed two life-saving operations in Camp Bastion.
Capt Hewitt then spent six weeks in hospital in the UK, followed by rehabilitation at Headley Court in Surrey.