Blitz memorabilia on display at Mersey ferry terminal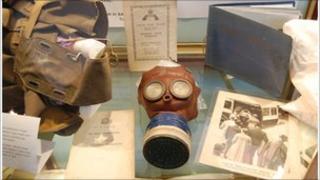 A new exhibition has opened at Woodside Ferry Terminal in Birkenhead to commemorate the 70th Anniversary of the Liverpool May Blitz.
A memorial listing the names of all the people who lost their lives during the 1941 bombing has also been unveiled.
The Liverpool May Blitz was the most concentrated series of air attacks on a British city outside of London during the war, with almost 3,000 casualties.
The first bomb landed upon Wallasey, Wirral at 2215 on 1 May, 1941.
Wartime memorabilia
The exhibition includes original wartime documents of the Liverpool Corporation Passenger Transport Department (LCPTD), rarely seen photographs and wartime memorabilia.
Some 1,536 LCPTD staff were drafted in for service with the Armed Forces. This drop in the workforce provided opportunities for women to be recruited.
Joan Scales donated her mothers tram pass to the exhibition.
"My mum Mary Finnegan worked on the trams and was based at the Walton depot from August 1941," she said.
"She was part of the fleet on trams which were on a secret mission to the Pier Head in the early hours of the morning to collect the American GIs coming off the ships.
"The GIs were astonished to see a woman conductor, saying, 'My God, it's a woman!'"
112,000 incendiaries
After the war the men returned to take back the jobs and Mary Finnegan took a job in Hatton Garden.
About 870 tonnes of high explosive bombs and more than 112,000 incendiaries were dropped on Merseyside during the Blitz.
Damage was caused to the city centre and the port, leaving many people dead and many more homeless.
The special exhibition runs until the end of May.