John Gorman pledges Festival of Firsts for Wirral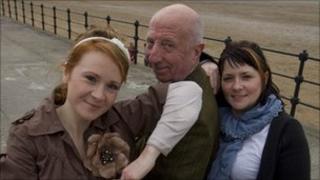 An art exhibition the length of a promenade, an orchestra of ukeleles and Shakespeare performed in the park are all being planned for a festival of "firsts" this summer.
The project promises to bring art, poetry, music and theatre to the Wirral over two weekends in July.
Behind these grand plans is the man responsible for some of the first moments of anarchy on children's television, former Tiswas star John Gorman.
With him is a team of more than 500 volunteers, all hoping to put the Merseyside peninsula on the international arts map.
The former member of 60s band Scaffold, who had a number one with Lily the Pink, said he wanted to create something new which everyone could get involved in.
He said: "In order to be different, I thought let's look at doing things for the first time. We had to be unique, and that was the idea of the Festival of Firsts.
'Every type of music'
"Now we have the world's first poetry proms, the Wirral's first music proms, so that's how it came about."
He also wanted to raise money for children's hospice Claire House, in Bebington.
It is hoped enough cash will be raised to enable an extra bed to be opened at the hospice.
The festival, which runs from 8-10 July in Hoylake and 15-17 July in Oxton, will be a showcase of "every type of music imaginable", with concerts taking place in church halls and bars in both centres.
Hoylake singer songwriter Caroline England has been taking applications from musicians keen to take part.
"We've got jazz, orchestras, choirs, folk, rock, blues, heavy metal and grunge happening in all the church halls and all the bars," she said.
"That's happening on the Saturday in Hoylake, most are free but some are ticketed."
There will also be a poetry competition, which is open to all, and poetry recitals throughout the festival.
Excerpts from Shakespeare's plays will also be performed, weather permitting in Queen's Park.
Mr Gorman said: "We want to have t-shirts printed bearing the slogan 'I've seen Shakespeare's bits' to go with the show."
He said the festival should have a strong sense of being for everyone.
"I like that idea of openness," he said. "I hate barriers, and that people think that they're better because they've done it longer or whatever."
His idea to exhibit art along a 5km stretch of Hoylake prom was part of that.
'In your face'
He said: "There are 1,100 sections of railings, I've counted them, and we want to see a piece of art exhibited on each part.
"Who will decide what art goes on there? It's not for me or for anybody to decide what goes on, just put it on!
"If you do it as a hobby and your art is next to a professional artist's, then great, it works both ways.
"Art is not something that's just taking place in a gallery or somewhere, it's happening on your street, it's here and it's in your face".