Liverpool benefits cheat filmed on gym treadmill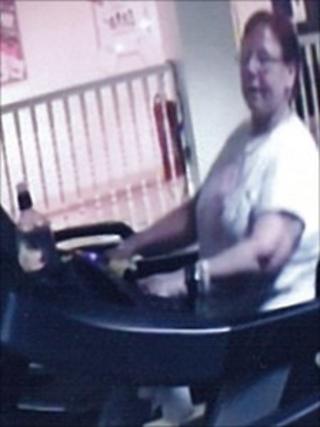 A woman who falsely claimed nearly £20,000 in disability benefits has been given a suspended jail sentence after she was filmed using a treadmill.
Grandmother Mary Grace, 60, from St Andrew's Court, Aigburth, Liverpool, claimed she could hardly walk.
Investigators from the Department for Work and Pensions (DWP) secretly filmed her at her local gym after a tip-off.
She admitted two counts of false representation and was given a 12-week suspended jail sentence.
A judge at Liverpool Magistrates' Court also ordered her to pay £75 costs.
Surveillance footage released by the DWP showed the mother of two using the treadmill for 55 minutes at the Spindles gym at Liverpool's Adelphi Hotel.
She was also seen using the free weights, resistance machines and the swimming pool.
Grace began making claims in 1996 but her condition started to improve.
From 2004 to 2010 she told officials she could hardly walk and said her mobility was severely restricted, meaning she claimed £93 a week in benefits.
The total amount received in disability living allowance added up to £19,399.55.