Events to remember Liverpool's victims of 1941 Blitz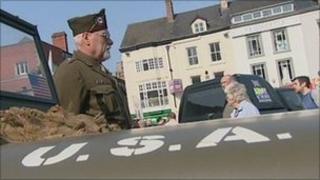 Three days of commemorations have begun in Liverpool in memory of those who died in the Blitz 70 years ago.
An intensive week of bombings in May 1941 left 1,700 people dead and destroyed thousands of homes, devastating the city.
The memorial events began with the sound of an air raid siren at 1030 BST, followed by a parade of war veterans through the city centre.
Two minutes' silence were observed on Church Street at 1100 BST.
The Lord Mayor of Liverpool, Councillor Hazel Williams, then laid a wreath and made a speech marking the commemorations.
She was followed by MPs, representatives of the armed forces, Liverpool and Everton football clubs and the Merseyside fire and police services.
'Spirit of Liverpool'
The city centre will host World War II-themed events, including a flying display by the Welsh Dragon Spitfire at 1430 BST, and a display of vintage military vehicles in Williamson Square.
Taking part in the veterans' parade was Craig Lundberg, the Walton soldier blinded in a grenade attack in Basra in 2007.
He was joined by George Cross, at 101, the oldest surviving veteran of the Normandy D-Day landings and celebrated Falkands War veteran Simon Weston.
Events on Sunday and Monday include performances of well-known wartime songs, pupils from St Julie's Catholic High School performing two 1940s-themed dance pieces and songs and stories about life in Britain during the war.
More than 4,000 civilians died in Merseyside during World War II, but the most significant loss of life came in the first week of May of 1941, when Hitler's Luftwaffe tried to destroy the docks.
The commemorations are being organised by Wirral-based charity D-Day Revisited, supported by City Central BID.
Money raised will be used to help pay for veterans to return to the site of the Normandy landings.
John Phipps, chairman of D-Day Revisited, said: "Whilst giving proper respect to those who lost their lives during the bomb raids of the Second World War, the event is intended to be a celebration of the spirit of the Blitz and indeed, the spirit of Liverpool.
''With a broad range of 1940s Blitz-themed entertainment, display and street theatre, we aim to capture people's imagination and get older generations talking to the younger people of Liverpool about what it was like to live through such an important era in Liverpool's history.
"This is Liverpool celebrating itself... it's heritage, it's culture, it's determined and enduring spirit."